Delta Prime is a human resources and organization development consulting firm that provides end-to-end talent management expertise to mission-based organizations. We take a holistic approach to improving organizations with a blend of comprehensive human resources and organizational development services that help identify what is and isn't working and provide recommendations that achieve results, resolve challenges, and promote self-sufficiency.
Through careful examination of the individual components of an organization — including its strategy, structure, processes, technology, rewards, recognition, and people — as well as the complete employee lifecycle, we facilitate practical HR and organization development solutions that create lasting and sustainable change.
No two organizations are the same, so our approach to HR and organization development isn't either. To be successful, a mission-based organization needs a dynamic, productive team that can work together to achieve its mission, and a custom HR strategy that keeps everything and everyone working in unison. Delta Prime provides the framework, expertise, and tailored solutions to make both possible.
The Cycle of Talent Management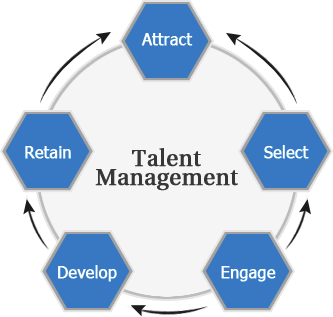 (Source: Saratoga Institute)